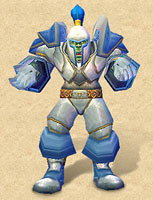 Here is a list of Frequently Asked questions about my server.
1. Why Alasiya WoW?

Answer: Simply, Same as Alasiya UO...I made a place where *I* like to play.
2. What is Alasiya WoW?

Answer: Alasiya WoW is a private server for myself and my kids.
It is open to the general public for exploring in the Wrath of the Lich King expansion for client v3.3.5
3. What are gain rates in Alasiya WoW?

Answer:
Basic Server Config info is found
here
.
4. What do you mean by the site being "Character-based"?

Answer: This site is configured to be used by a specific character, instead of a specific account.
This allows PMs and other pages to be tailored to each character, instead of just general pages for everyone. While you can adjust and update your account information from any of your characters, specific items are set for each character, including signatures and titles.
5. Can I change my account settings from any character?

Answer: Yes.
Account settings can be accessed through any of the characters on that account.
6. Can I change Character settings from any character?

Answer: No.
You can only adjust settings on your currently selected character.
These settings are saved for each character, and are separate from your account settings.
7. Can I view PMs for another character on the same account as my current character?

Answer: No.
PMs are per-character, but you can view all your characters associated with your account and how many PMs they have.
You can only view and reply to PMs for the currently selected character.

Page generated in 0.0137 sec. Queries: (RDB: 8, WDB: 0, CDB: 0)
© All Images and Logos are Copyright(c) 2010 Blizzard Entertainment
Template originally designed by Rod Creative, Modified by Wilson212 for MangosWeb.
Updates to MaNGOS Web Enhanced v4.1.2 © 2017, Mistvale Dev Team. All Rights Reserved.
Site Version 4.2.6 for Alasiya WoW ©2011-2023 by Allan.
Validate XHTML | Validate CSS | Validate RSS